As you know, real
What the heck is that?

Well, a land trust is a revocable, living trust used specifically for holding title to real estate. Each property is titled in a separate trust, affording maximum privacy and protection.

The underlying property owner does not lose their claim of ownership on the property, which takes the form of "beneficial interest" in the land trust. But, the trustee becomes the public titleholder for legal purposes.

A trust gets your name off of public records.

Now, let's dive a little deeper into land trusts together with 6 reasons why we love 'em…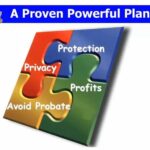 #1. Avoid the "Due on Sale" clause in a mortgage.
In 1982, laws were passed with the help of the powerful banking industry to prohibit loans from being "assumable" in an attempt to make more money on the front end of every loan.
See, the banking industry realized that people didn't typically stay in the same house (or same loan) for 30 years. In most cases, they either sell or refinance their loan within 7 years of its origination.
Since some genius banker figured out how to frontload all the interest in every loan, it became highly beneficial for bankers to get cased out after 7 years rather than let some other party assume their loan.
So, then came the "Due on Sale" clause, stating that every time a property was sold, the underlying loan had to be cashed out or the bank could call the loan due and you would have to pay it off in full or get foreclosed on.
But of course, with every rule there is an exception, and with this one it is the Garn-St. Germain's Depository Institutions Act of 1982. This law states that banks do have the right to call a loan due upon its transfer UNLESS the property was transferred into an inter-vivos land trust for estate planning purposes.
This is one of the biggest benefits to taking title to your properties in trust and the best way to protect yourself if you are buying properties subject-to.
#2. Trusts help to avoid seasoning when you go to sell the property.
There is nothing worse than doing the whole deal, and then finding out that the new buyer's lender will not fund the deal because they are suspicious of how you made so much money on the deal in such a small amount of time…
They assume there must be some kind of mortgage fraud going on, when in reality, you just did a really great deal and sold a great home to a deserving family.
Passing the ownership of the property from the old seller to the trust to the new buyer helps to avoid looking like there is an investor in the middle making a bunch of money. It could look like the old seller passing their property into trust, and then deciding to sell it because they got an offer on it.
#3. Estate Planning.  Avoids probate!
Have you ever had the pleasure of trying to settle an estate?
Let me just save you some time, money, and aggravation…
If you have all your property correctly set up in trusts in the first place, then all your assets will pass automatically to the appropriate heirs to your personal fortune!
This also avoids your last wishes being contested as can often happen with a will. We are not saying don't make a will… but having your properties in trusts up front will avoid many issues in the future.
It's kind of like estate planning as you go. Every time you close on a property, you can take title in a land trust and have your estate planned in advance to where you don't have to think about it constantly or update your will every other day.
#4. Anonymity in ownership.
Now you have the ability to own nothing but control everything.
If a tenant slips and falls on your steps and decides to sue you, how easy do you want to make it for their attorney to find everything you own.
If you have nothing in your name, and you look like the poorest person in the world to sue, how long do you think that lawsuit will last?
Exactly.
Lawyers are businesspeople too!
#5. You don't necessarily have to go to closings anymore if you don't choose to.
This might possibly be the best of all…   Your trustee (whom you choose) goes to your closing for you to handle all the paperwork, so you can concentrate on doing more deals and making more money!
#6. Transactional privacy.
What am I talking about?
Walt Disney's book "A Genius Man" shared how his team used  trust anonymity to purchase the land in Orlando for Disney World.
It was rumored back in the late 1960s that he was going to open up some magnificent complex somewhere on the Eastern seaboard.
But if he would have told people his whole plan, obviously, real estate prices would have skyrocketed overnight.
So what he did was nothing short of genius: He sent multiple trustees in multiple trustee names down to Florida to negotiate options.
He coupled the option technique with the trust technique… and sent trustees down to Florida on his behalf, and they negotiated with farm owners and landowners all around the middle of Florida.
And when he was happy with what he had locked up on options all around the area, he was able to simultaneously exercise all of his options and buy 28,000 acres in the middle of Florida for pennies on the dollar.                    And overnight, prices changed.
But! Because of transactional privacy, he was able to go down there, lock it up in options and trusts to then buy them overnight.
Magical, indeed.
Now…
Do you see why we love land trusts so much?!
I suggest you add this smart strategy to your REI business.
Especially when you are creating a sub-2 transaction.
Capstone Capital USA can offer assistance in setting up your land trust.