I found this article backed by statistics. While each market is local, there are some trends when looked at as a whole. Phoenix may not be far behind. A slowing market will require motivated sellers to consider seller financed transactions vs just cash.
The Most Splendid Housing Bubbles in America Decline
Seattle house prices drop 4.4% in four months, biggest drop since Housing Bust 1; Prices deflate in San Francisco Bay Area, San Diego, Denver, and Portland.

Some of the markets in this select group of the most spending housing bubbles in America have turned the corner, according to the S&P CoreLogic Case-Shiller Home Price Index, released this morning for October, confirming other more immediate data. This includes the Seattle metro, the five-county San Francisco Bay Area, the San Diego metro, the Denver metro, and the Portland metro. In these metros, house prices have skidded the fastest, and in some cases for the first time, since the Housing Bust. In other markets, house prices have been flat for months. And in a few markets on this list, prices rose. More on those markets in a moment.
On a national basis, these dynamics get washed out. Single-family house prices in the US, according to the S&P CoreLogic Case-Shiller National Home Price Index, ticked up a smidgen on a month-to-month basis in October, and rose 5.5% compared to a year ago (not seasonally-adjusted). This year-over-year growth rate has been slowing from the 6%-plus range that reigned from September last year to July this year. The index is now 11.6% above the July 2006 peak of "Housing Bubble 1" (the first housing bubble in this millennium), which came to be called "bubble" and "unsustainable" only after it had begun to implode during "Housing Bust 1":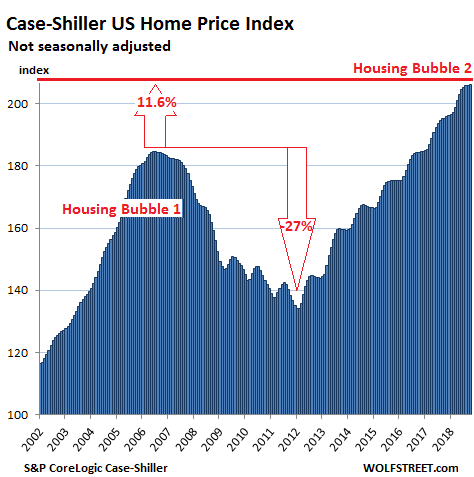 The index is a measure of inflation — not of consumer price inflation but of house-price inflation, where the same house requires more dollars over the years to be purchased. In other words, the index shows to what extent the dollar is losing purchasing power with regards to buying the same house over time.
The Case-Shiller Home Price Index is a rolling three-month average; today's release is for August, September, and October data. Based on "sales pairs," it compares the sales price of a house in the current month to the prior transaction of the same house years earlier. The index incorporates other factors and formulas to arrive at each data point.